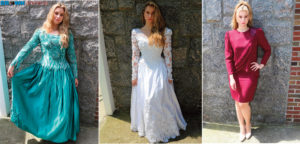 Visit the Designer Bargain Boutique at Beautiful Memories Gemach
While the main purpose of the Beautiful Memories Gemach is to provide dress clothing to those in need, reality reminds us that we have to pay for dry cleaning, racks and other overhead costs. With that in mind, we have established the Designer Bargain Boutique at the Beautiful Memories Gemach, where men and women who are not in financial need, but appreciate a good bargain can come to shop for dress clothing and go home with gorgeous clothes the value of which far exceeds the donation that is asked of them.
The Designer Bargain Boutique is filled with designer gowns, suits and tuxedos, vintage ties and accessories and so much more.  It's a fashion lover's dream come true.  We all know that most dress clothing gets worn very few times, and often, only once.  Many of our items are unsized because they were custom made for the original owner.
If you are shopping for something unique for a dressy occasion and don't want to spend an arm and a leg, then you should be shopping with us.  When you shop with us, there is a private try-on area to protect your modesty, and you will be assisted by our Gemacheteers, the wonderful volunteers who make all of our guests feel like family.
Have a Shopping Party With Your Friends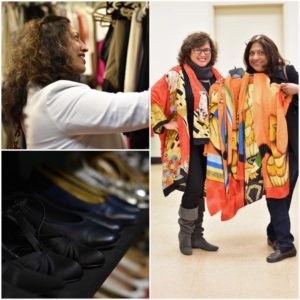 Friends, Fashion, Food and Fun!
Here at the Designer Bargain Boutique and Beautiful Memories Gemach, we have plenty of room for you and your friends to enjoy an evening out.  Gather a group of friends and shop to your heart's content while enjoying food, drink and friendship … and knowing you're supporting a great cause.  Call us today to start planning your Shopping Party!
Buy Vintage Clothing Online
You can get great designer and vintage clothing while supporting the Beautiful Memories Gemach no matter where you are by shopping online at our Tradesy store.  Click HERE to visit.
Save Money.
Save the Planet.
Did you know that between, production, shipping, disposal and all the steps in between, the only industry that contributes more toward polluting our environment than the garment industry is oil production?  So why not do something good for your wallet and our planet, and shop at the Beautiful Memories Gemach Designer Bargain Boutique for gorgeous clothing that is in new or like new condition?