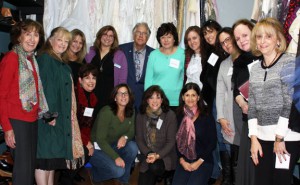 The Beautiful Memories Gemach is staffed by volunteers and consists of donated clothing.  There are many ways that you can help us to help our brothers and sisters in need.
You may donate:
Men's Clothing
We will gladly accept donations of suits, dress shirts, ties, dress slacks, sport jackets, belts, dress shoes, overcoats, tuxedos, dress hats and other clothing and accessories appropriate for a man to wear to work from business casual to formal and for special occasions.  Hard to find sizes, both large and small are particularly appreciated.
Women's Clothing
We would greatly appreciate donations of women's dresses, from business casual to formal, bridal, bridesmaids, prom and other gowns, skirts, blouses, dress slacks, blazers, dress shoes, belts, handbags, costume jewelry and other dressy accessories.
Children's Clothing
Donations of children's dress clothing would also be appreciated.  We can use party attire for both girls and boys, including dress shoes and accessories.
Your Time
As the Beautiful Memories Gemach continues to grow, we are in need of volunteers to sort and display clothing and assist visitors to the gemach with their clothing selections.  If you would like to become a Gemacheteer, please call Mark Krieger at (917) 703-4694.
Win-Win Bargains
At this time, we are offering the opportunity to help us serve those in need by making a donation to Young Israel of New Hyde Park in exchange for your selection of beautiful dress clothing.  The requested donation is a fraction of the price you would pay for this clothing anywhere else.  It's a win-win!  You get gorgeous clothing well below market price, and your donation helps defray the cost of running the Gemach, so we can serve those less fortunate.
Please remember that it is a donation – not a purchase.  That means that you can return an item to the Gemach before or after you've used it, or you can exchange it for another item, but we don't issue refunds of donations.  We really appreciate your support!